Express repairs for your iDevice of any model. Delivery service right to your home
Professional and fast assistance for your Apple Mac in Milan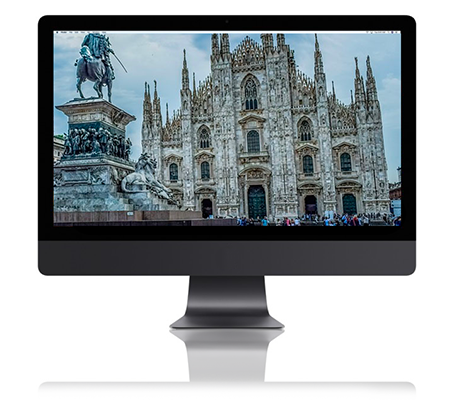 Do you need a FAST help for your iPhone, iPad or Mac in Milan?
Fill this form, we'll get back to you at once!
Are you in Milan and need assistance for your Mac of any model?
You are in the right place, then!
We are the fastest, cheapest and most professional Apple Mac assistance service in Milan!
We are happy that you found us, and do you know why? Because so we can prove that we are telling you the truth!
We have a world of services and professional assistance for your Mac of any model, whatever your use.
Keep reading this information page to discover all our services, carefully designed around you and your Mac!
We provide fast repair for any kind of Mac!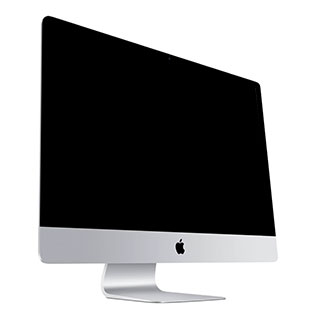 It doesn't matter which model you have of Mac: if an iMac, a Mac Pro, a Mac mini, a Macbook Pro does the same for us.
We specialize in taking care of your Mac regardless of its model, and our technicians are able to operate on so many versions of the same machine that you will really struggle to believe it!
We also offer assistance to Macs considered 'vintage' (i.e. those produced more than five years later), and do you know why?
For three excellent reasons:
Because the concept of 'old' in computer science is quite unstable and context-dependent.
There are so many uses for a Mac that what is considered 'vintage' for one user is considered top of the range for another;
Because the future of the environment is not recycling, but reusing.
The resources available on our planet are limited, and not everything can be recycled: the fiberglass of the printed circuit board (PCB) components, for example, cannot be recycled, as well as about 80% of used rechargeable batteries.
Reuse, on the other hand, solves the problem at the root, allowing to considerably extend the life of an electronic product;
Because Macs are not only consumer electronics products, but also collectibles.
Many users love to collect Macs in excellent condition, because Apple computers not only mere computers, but also - and perhaps above all - great design works
For these reasons, we do not stop with the assistance only to the latest models on the market, but our services cover a very wide range of Mac family products also considered vintage.Book your repair now!
HDD and SSD replacement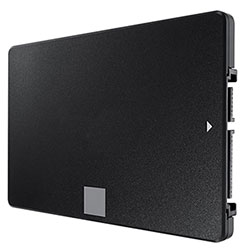 We specialize in quickly changing Mac HDDs, replacing them with other HDDs or fast SSDs.
We can replace any HDD of any Mac model that mounts a SATA connection, even of iMac models with adhesive closure (post late 2012).
We are perfectly equipped to safety operate on your iMac, protecting the fragile LCD display and ensuring its perfect seal after replacing the HDD-SSD unit.
Even for your Macbook Pro of any model, we can replace or upgrade your SSD, both with SATA and PCIe connection.
Have you run out of storage space on your Macbook Pro and want to expand it with a new SSD?
We can take care of it: we mount OEM or A + SSDs of the highest quality, fast and performing.
We operate with the best high precision instruments (Whia, Wera, Beta), we use 3M fixing products and we are precise and meticulous in replacing the HDD-SSD units.
We assist not only in the hardware part, but also in the software part: we deal with the transfer of data from one unit to another, the preparation and initialization of the new partition, the installation of macOS and the eventual cloning of the old unit.Book your repair now!
Macbook Pro and Macbook Air battery replacement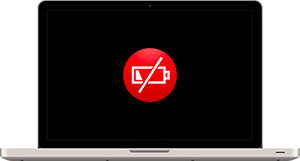 The internal battery, whether integrated or not, of the Macbook Air and Macbook Pro must be replaced periodically.
Like any rechargeable lithium polymer (LiPoly) battery, portable Mac batteries also wear out over time and use.
Generally a good quality LiPoly battery can be used for approximately 800-1000 full charge / discharge cycles before running out completely.
This number of cycles can be achieved in a variable period of time, depending on the use of the Mac by the user.
Whenever the Mac battery completes a complete charge / discharge cycle, a very small part of its polymer cells oxidizes irreversibly.
In the long run, these small oxidations add up and reach percentages, so severe that the battery is no longer usable.
To this slow consumption by use, we must add the natural degradation of the materials that make up the Mac battery, which begin to become corrupt immediately after their industrial production.
On average, the natural degradation of a LiPoly battery erodes about 20% of the total capacity per year, regardless of whether the Mac is actually used or not.
This degradation, however, worsens if the Mac is not used for long periods.

When the battery runs out and can no longer accumulate enough electrons to power the Mac, it must necessarily be replaced.
In many models of Macbook Macbook Pro and Macbook Air, replacing the battery is not an operation that the user can carry out independently, since the accumulator is integrated directly into the calculator.
In models from 2013 onwards, all batteries are glued to the aluminum case of the Mac with a tenacious double-sided adhesive, which makes it even more difficult to extract.
We specialize in replacing the exhausted batteries of any Macbook, Macbook Pro or Macbook Air, even those with an integrated battery.
We can replace the battery of your Mac in a very short time, ensuring a change made in a workmanlike manner.
We always have batteries in stock for your Mac, and if we don't have one particular model at the moment, we can order it and get it in just 48 hours.Book your repair now!
Mac screen and glass replacement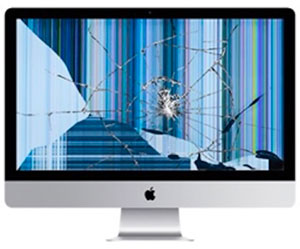 We can change the broken display or glass of any Mac, even models that are difficult to handle such as the post-2012 iMac series.
We have a large selection of high quality aftermarket parts for every Macbook Pro or Macbook Air model, at very affordable prices.
Our network of suppliers allows us to get you the spare part in no time, to get your Mac back as soon as possible.Book your repair now!
Internal cleaning and new thermal paste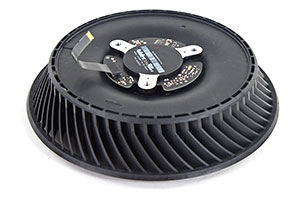 Each Mac, both desktop and laptop, has one or more cooling fans inside, to lower the operating temperature of the CPU and GPU, thus avoiding dangerous overheating.
Given that the Mac continually sucks in cold air from the outside, and then convoiles it inside and thus allows the cooling of CPU / GPU, over time a considerable amount of debris is formed inside the Mac (and in the fans specifically).
These debris are mainly granular solids, therefore dust.
In a home environment, dust in turn is largely made up of fragments of skin, nails and textile fibers.
If the Mac is placed in an environment where the custom of smoking is frequent, sediments of the same (waste material from combustion) are sucked in and accumulate to organic debris inside the computer.
Debris inside the fans cause, in the long run and if not removed, the malfunction of the same, which can therefore freeze or break.
It takes just a few minutes of internal cooling failure to cause the CPU and GPU temperature to rise above 100 ° C, risking burning the electronic components of the Mac logic board.
That's why regular internal cleaning of the machine is mandatory, and should be done at least every 24 months (12 if the Mac is in environments with regular smokers).
Another component that needs periodic control and treatment is thermal paste, present in every desktop and laptop computer currently on the market.
Thermal paste (or thermally conductive paste) is a very dense type of paste, composed of a mixture of materials with excellent thermal conductivity (usually synthetic diamonds or liquid metals).
It is applied between the CPU / GPU die and the heatsink plate, which in turn is connected to the cooling fan.
Thermal paste helps heat transfer from the CPU / GPU package, and is much more effective than just air (in itself, a bad heater conductor).
Without the thermal paste between die and heatsink, the CPU / GPU would disperse heat very badly, decreasing overall performance and risking overheating.
Heat-conducting pasta has a long life, but it is not infinite: it must be changed periodically, since the materials that compose it, over time, tend to lose their thermal properties.
There is no fixed period, standard for everyone, how often to change the thermal paste, but experience tells us that it is good to change every 36 months.
We specialize in carrying out complete internal cleaning and changing the thermal paste for every Mac, of any model, both desktop and laptop.
At each change of thermal paste, we remove all traces of old pasta, clean both the package and the heat sink with specific absolutely non-electroconductive products and apply the new thermal paste to perfection.
Only after the Mac has passed a special software test (with stress test) do we close the machine and return it to the customer.
We use high quality thermally conductive pastes, whose average life is statistically over 48 months.
Fast and complete software assistance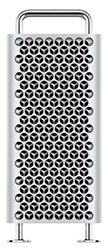 For years, we have been helping every Mac stay healthy, both physically and ... With its operating instructions.
We are specialized in the use of macOS and we know every detail, of any version.
We know how to recognize normal software loading times from anomalies, and we know what to do in the event of malfunctions, sudden crashes and (it is not as rare as you may believe) the presence of malware, trojans or viruses.
Even macOS, the Macs' operating system, although not at the level of Microsoft Windows, is affected by the scourge of malicious software.
Our technicians can get to you all over Milan in just 30 minutes to bring your Mac back to perfect functionality, making you not waste time or work projects.
We have tools and knowledge to recover critical data from damaged or mistakenly deleted media.
We offer many services to make you feel peaceful, and not to frustrate all your work for a trivial software problem.
Whether you are an owner of iMac, Mac Pro, Macbook Pro, Macbook Air, Mac mini, little changes: we can help you solve your software problems on every Apple computer, and we always have recovery OS ready to allow you to return to production quickly .Book your repair now!
In every part of Milan, the fastest service
If he does not even have time to go to the assistance, we are the service for you: we come to you. In just 30 minutes *.
We arrive, we view, we value, we repair. Whenever possible, we repair directly where you are.
If this is not possible, we will take the Mac, wrap it carefully so as not to let it get cold, take it to the laboratory, and repair it.
Obviously, then we'll bring it back.
We only offer on-site service throughout Milan, we do not have a physical location: this allows us to save costs and guarantee exceptional prices and intervention times!
Your Mac model is not a problem: we operate with many models, even those considered 'vintage'.
We perform any type of generic intervention, at home, for only € 20.00 + VAT per hour.
We provide qualified assistance to your Apple Macintosh by putting at your service twenty years of experience.
All this, conveniently by calling 333.29.22.308.
Look at the map below the areas covered by our on-site emergency service:
Our express service guaranteesour arrival within 30 minutes from the call: it is very fast, our technician comes to you and immediately solves your problem.
If your Mac needs some special intervention that cannot be done on the spot, the computer is withdrawn and then returned to work.
If you do not need an express service, you can request a standard intervention, with same-day processing.
Our technicians arrive in every part of Milan with both express and standard service, and cover the areas of:
Municipio 1 - Centro storico
Brera, Guastalla, Carrobbio, Porta Tenaglia, Porta Sempione, Conca del Naviglio;
Municipio 2 - Stazione Centrale, Gorla, Turro, Greco, Crescenzago
Loreto, Turro, Crescenzago, Adriano, Gorla, Precotto, Ponte Seveso, Maggiolina, Mirabello, Greco;
Municipo 3 - Città Studi, Lambrate, Porta Venezia
Porta Venezia, Porta Monforte, Casoretto, Rottole, Feltre, Cimiano, Città Studi, Lambrate, Ortica;
Municipio 4 - Vittoria, Forlanini
Porta Vittoria, Porta Romana, Cavriano, Forlanini, Monluè, Trecca, Taliedo, Monsenchio, Ponte Lambro, Calvairate, Corvetto (limite);
Municipio 5 - Vigentino, Chiaravalle, Gratosoglio
Porta Vigentina, Porta Lodovica, San Gottardo, Morivione, Vigentino, Vaiano Valle, Chiaravalle, Macconago;
Municipio 6 - Barona, Lorenteggio
Porta Ticinese, Porta Genova, Conchetta, Giambellino;
Municipio 7 - Baggio, De Angeli, San Siro
Porta Magenta, De Angeli, San Siro, Baggio;
Municipio 8 - Fiera, Gallaratese, Quarto Oggiaro
Porta Volta, Bullona, Ghisolfa, Portello, Cagnola, San Leonardo;
Municipio 9 - Garibaldi, Niguarda
Porta Garibaldi, Porta Nuova, Isola, Bicocca, Affori, Bovisa
Write to us and send us your requests
If you have problems with your Mac or want to request our consultation, you can call 333.29.22.308 during working hours, from Monday to Saturday.
Alternatively, you can fill the form below:
Our clients say:
"That's great! I had my Mac frozen, and half a day of work saved only thanks to them!"
Alfredo
"Really fantastic! Replacing my HDD with SSD as fast as the wind! And in an hour!"
Maria
"My company can no longer do without those guys, seriously: their skills are just amazing."
Alfiero
If you experience problems with your Mac and nedd assistance, call us at
333.29.22.308
or fill the form you find on this page.
We have the lowest prices on the market, but we never give up on quality.

ATTENTION!

all WEEE waste is extremely dangerous for the environment.
This is caused by the toxic content of heavy metals mainly concentrated in the rechargeable batteries that power many WEEE devices.
IN ITALY, BY LAW (
D.Lgs. 188, datato 20 Novembre 2008
) IT IS MANDATORY TO DISPOSE OF PRIMARY BATTERIES AND RECHARGEABLE ACCUMULATORS ACCORDING TO THE PROVISIONS IMPOSED BY THE LEGISLATOR.
WE DISPOSE, WITHOUT ADDITIONAL COSTS FOR THE CUSTOMER, THE EXHAUSTED BATTERIES THAT WE CHANGE, DIFFERENTIATING AND BRINGING THEM TO THE
AUTHORIZED CENTERS OF COLLECTION OF EXHAUSTED BATTERIES MANAGED BY THE public company AMSA
IN THE TERRITORY OF MILAN.
THIS MESSAGE IS THEREFORE OF EXTREMELY IMPORTANT: THE HEAVY METALS, AND TOXIC COMPONENTS PRESENT IN THE BATTERIES, ARE A SERIOUS DANGER FOR YOUR HEALTH, AND FOR THAT OF ALL SOCIETY.
WE ARE THE TOP QUALITY ASSISTANCE IN MILAN FOR YOUR MAC.
We have a deep knowledge of any Mac model produced on the market, and we know how to fix it.
Here you will always find the highest quality combined with the most affordable prices, with the experience of technicians who have been dealing with Apple devices for years.
We love our Macs, exactly like you: therefore we want to keep them always perfect and in excellent health!